Investigation of Sodium Alendronate Trihydrate (Form C)
14th September 2004
Updated 19th December 2008 to include a fuller range data set.
Experimental Data
Click image to access powder diffraction data (.spf format)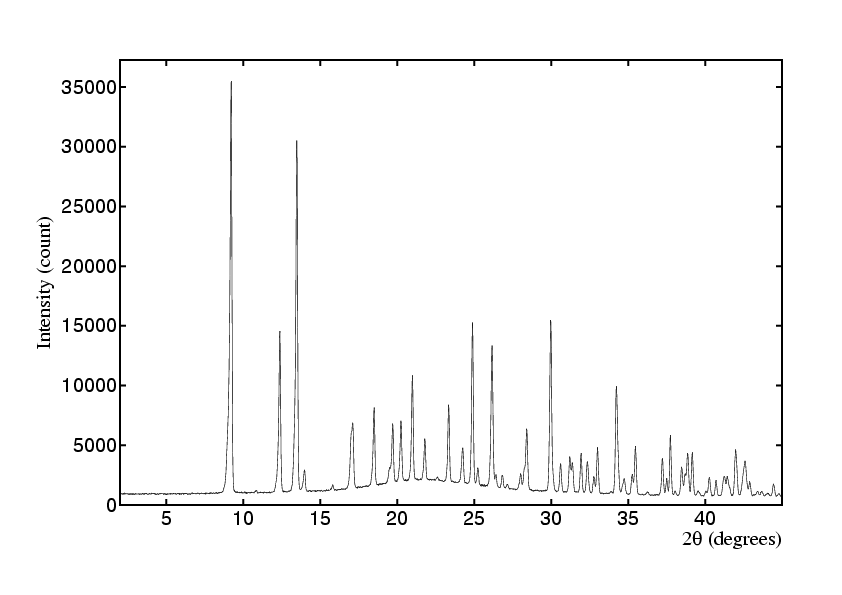 Chemical Name
4-amino-1-hydroxybutylidene-1,1-bisphosphonic acid monosodium trihydrate
Chemical Formula
C4H12NNaO7P2 · 3H2O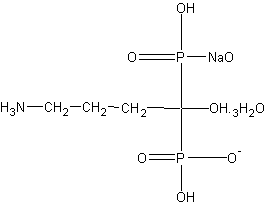 Preparation and Instrumentation Parameters
Stoe StadiP transmission (capillary) Powder Diffractometer
Cu Kα1 X-ray radiation
Pre-sample germanium monochromator
40kV/30mA generator power
Linear Position Sensitive Detector 6° 2θ range
Rotating 0.5mm sample capillary
uncrushed, unsieved sample
NBS Silicon (111 reflection) calibration
Data aquisition details:

Date collected: 18/12/08
File: ST3394.RAW. Replaces ST1182.RAW
×2 ranges from 2 to 45° 2θ and summed
PSD step: 0.2°
Count Time: 110 seconds per step
Binning: 4 channels per point
Data Step: 0.02°
Results
Indexed using ITO12
Refined lattice parameters by Lebail fit:
Revised indexing 15/04/05. (click here for original cell)

Unit Cell Lengths (Å):
a
7.274(1)
b
9.002(1)
c
19.500(1)
Unit Cell Angles (°):
α
90
β
100.587(2)
γ
90
Unit Cell Volume (Ų):
1255

Z: 4
System: Monoclinic
Possible Space Group: P21/n
Reference
European Patent: EP0402152A2
US Patent: US20030065214A1
Acta Cryst. (1996) C52, 2198-2201, D Vega et. al.
---