Paul Barnes
Professor in Applied Crystallography
---
E-mail: p.barnes@mail.cryst.bbk.ac.uk
Direct Telephone: London (020)-7631-6817
FAX: London (020)-7631-6803
Departmental Secretary: London (020)-7631-6800
College Telephone: London (020)-7631-6000
(UK international code is 44)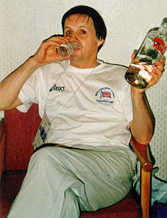 Here is an untypical picture of me in 1995; I am almost teetotal, but found a rare excuse here to celebrate!
Brief Academic CV
1963: BSc (Physics, Bristol University)
1967: PhD (Physics & Chemistry of Solids, Cambridge University)
1971: Appointed lecturer in Crystallography, Birkbeck College, London University.
1994: DSc (Applied Crystallography, London University)
1994: Appointed to personal chair in Applied Crystallography, London University.


Currently:

Dean of Birkbeck College,
Deputy Head of Department,
Governor of Birkbeck College,
Lecturer on the advanced certificate course Powder Diffraction on the Web,
Lecturer on the MSc course Molecular Modelling and Bioinformatics,
Council Member of the BCA (British Crystallography Association).
Scientific Interests
I call myself an applied crystallographer which means almost anything. My interests are X-ray and neutron diffraction (especially fast in-situ powder diffraction with synchrotron/neutron sources), computer simulation and a bit of electron microscopy; all applied to materials like zeolites, ceramics, cements, hydrates, particularly those with an industrial application.
Recent Research Highlights
---
Back to Industrial Materials Group Homepage